Simple and Easy Dessert Recipes
Easy dessert recipes have a special place on my hips...uhmm, I mean in my heart. I love creating easy dessert recipes that are incredibly delicious using simple ingredients. Just recently I wanted to make an elegant truffle but I needed it to be very inexpensive. I ransacked my entire kitchen from pantry to freezer before it finally struck me. I had the ingredients for one of my favorite and oh-so-easy dessert recipes! I had the ingredients to make Fried Banana Splits!

Sure I love the traditional banana split and all of it's flavors. But when you taste a warm sweet banana in it's crispy cinnamon blanket, smothered in ice cream and carmel sauce, you'll find a special place on your hips...er, in your heart for them too! How many easy dessert recipes can you whip up in a flash and look like a dessert queen? At least one!

If you go camping, minus the ice cream and serve with just the carmel sauce. You can even buy the stuff in the jar if you need a short-cut.







Fried Banana Split


4 flour tortillas
4 medium bananas, peeled
toothpicks
2 cups oil for frying
Vanilla ice cream (optional)

3 Tbs sugar mixed with 1 Tbs cinnamon

Carmel Sauce- recipe follows


In 10 inch skillet, add oil and heat to 375° F.

Wrap each banana with a tortilla and secure with toothpicks. Fry in oil until golden brown, turning once. Remove from oil and carefully remove hot toothpicks.

Roll in cinnamon-sugar mixture. Cut in half cross-wise and place in a small bowl. Add vanilla ice cream and drizzle carmel sauce over all. Serve immediately.


Carmel Sauce
2 Cups brown sugar
1/2 cup butter
pinch salt
1/2 cup milk
In sauce pan, melt butter. Add sugar and salt stirring until dissolved. (about 2-3 minutes) Add milk all at once stirring constantly. Mixture will bubble up. Boil for about 3 minutes. Remove from heat. Let cool without stirring for about 15-20 minutes. Carmel sauce should be thickened but pourable. Serve warm.
What happened to the decadent truffles that I wanted to make? Oh, I made three different flavors with just one recipe! They just mmmelt in your mmmouth. Why do I think these truffle recipes qualify as easy dessert recipes?. Well, just try these with a scoop of ice cream, or baked in the center of a cupcake or blended into a milkshake.
I really do think these three truffle flavors should qualify as easy dessert recipes. They are so decadent and delicious that every time you eat one, an Angel gets its' wings...er, maybe it was the Tooth Fairy gets her wings...well, something good happens to someone!
Truffle Tripled
8 oz cream cheese, softened
1/2 cup butter, softened
2/3 cup water
12 - 15 cups powdered sugar, sifted
1 tbs vanilla
1 lb white bark or white chocolate coating
1 Tbs shortening
3 oz semi-sweet chocolate chips
1 tsp shortening
1 tsp Rum
1/2 tsp nutmeg
2 Tbs maple syrup
1/2 cup walnuts, finely chopped
2 Tbs Maraschino cherry juice
1/2 cup Maraschino cherries, finely chopped
In mixing bowl, beat cream cheese, butter, and vanilla for 1 minute on low speed of electric mixer. Then beat on high speed for 2 minutes. Add 6 cups of the sugar and all of the water and thoroughly combine. Continue to add sugar 1 cup at a time until mixture is of spreading consistency. Divide equally into three bowls.

In first bowl, add 1 tsp Rum and 1/2 tsp nutmeg and mix well. These are Eggnog Truffles.
In second bowl, add 2 Tbs maple syrup and 1/2 cup finely chopped walnuts and mix well. These are Maple-Walnut Truffles.

In third bowl, add 2 Tbs Maraschino cherry juice and 1/2 cup finely chopped cherries to make Cherry Truffles.
To each bowl, knead in enough powdered sugar until the mixture can be rolled into a ball. Roll each flavored mixture into 1 inch balls and place on waxed paper. Freeze for 30-60 minutes.

In microwave, add 1 Tbs shortening to white chocolate and melt slowly, stirring every 20-30 seconds. Do NOT over heat! Center truffle on fork and hold over chocolate. Spoon warm chocolate over truffle, covering completely. Use a butter knife to scrape the chocolate off the bottom of the fork and to slide the truffle back onto the waxed paper to harden. Repeat until all truffles are covered.

Make sure to keep the truffle flavors separated. Once the truffles are set, melt the semi-sweet chocolate with 1 tsp shortening. Use the tines of a fork to drizzle swirls onto the Eggnog Truffles. Use the same fork method in a back and forth motion with semi-sweet coating to make fancy lines on the cherry truffles and the maple walnut truffles stand alone.
Keep refrigerated.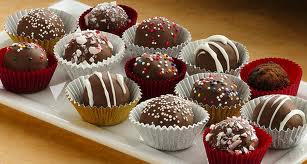 From Easy Dessert Recipes to Banana Recipes

Camping Recipes