Vegetarian with Tofu Recipes
If you want to have a meatless meal with good protein, tofu recipes are a great alternative to meat! My youngest child has become an animal activist and at age 9 she turned vegetarian. I wanted to let her evolve into who she feels she is by supporting her so, I've changed how I cook a lot of meals. This is one of her favorites.


Teriyaki Tofu N Rice
4 cups steamed rice
2 cups Teriyaki sauce
1 package firm Tofu, cut into 1 inch cubes
2 tbs oil

Heat oil in large skillet. Add cubed Tofu and brown lightly on all sides. Add Teriyaki sauce and heat through. Pour over steamed rice. Serves 4.



Tofu Dippers
1 - 16 oz container firm tofu, drained well
2 eggs
1/4 cup cornstarch
1/4 cup milk
1/2 tsp hot sauce
1 1/2 tsp salt
1/2 tsp black pepper
1 tsp garlic powder
1 tsp chili powder
2 cups flour

Slice tofu horizontally to create two equal layers. Cut each layer into 1/2 inch wide strips. Set aside.



Pour milk into medium bowl. Whisk in cornstarch. Whisk in hot sauce and eggs. Set aside.

Add spices to flour on large plate and mix well. Pat tofu strips dry. Dip strips, one or two at a time, into the egg mixture then into the flour mixture, coating well. Repeat for each strip so that each has been coated in egg mixture and flour twice.



Deep Fry in hot oil 350° until golden brown. About 3-5 minutes turning once. Served below with marinara sauce, but ranch dressing, honey mustard and BBQ sauce pair perfectly too!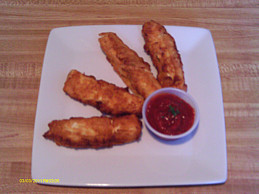 From Tofu Recipes to Cheap Recipes

Easy Dinner Recipes for Amazing Chinese Food

Monkey Bread